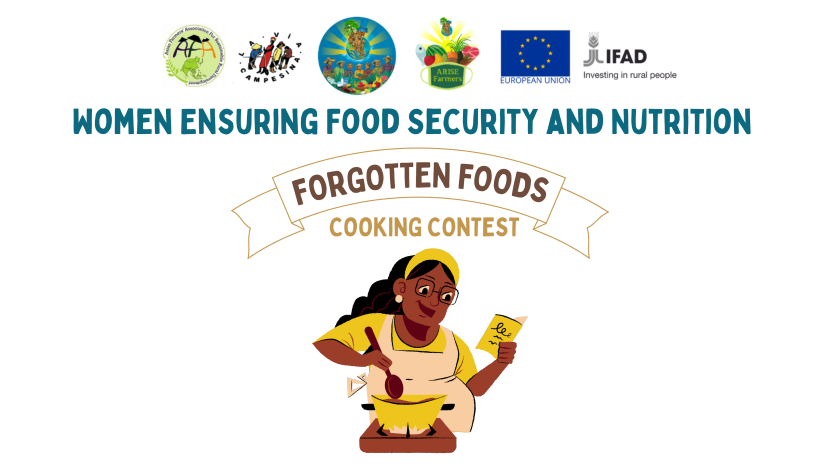 The Asia Pacific Farmers Forum, an organisation aiming to support Farmer Organisations in Asia and the Pacific, is launching a forgotten foods cooking contest for the women in agriculture. The challenge is to prepare native dishes using forgotten, indigenous, native or heirloom food crops. The competition is aimed specifically towards women in agriculture in order to stress their crucial roles in agriculture, food production and  the preservation of indigenous crops in Asia and the Pacific, where the women play a pivotal role in growing food.
For centuries, people in Asia and the Pacific have been growing and consuming a wide variety of highly nutritious food crops, including native and wild varieties of vegetables, fruits, herbs, spices, fishes, and other foods found in the mountains, forests, or bodies of water, or grown on community farms and gardens. Smallholder family farmers have been the custodians of these species and their biodiverse systems. These traditions are however gradually disappearing due to the apparition of modern agriculture and the use of commercial seeds and crops instead of native ones.
"Since the 1900s, farmers worldwide have abandoned many of their traditional crops in favour of even more genetically uniform, high-yielding varieties. Today, over half the world's plant-based nutrition comes from just 3 crops: corn, wheat, and rice", the press release announcing the competition states.
As many communities moved away from producing indigenous foods, many of these crops have disappeared from the production chain and are now close to being forgotten. They are referred to as "neglected and underutilized species" by the Food and Agricultural Organization of the United Nations. "These crops are often overlooked by policymakers, researchers, and extension agents. In fact, governments rarely allocate resources for their promotion and development. That results in farmers planting them less often, reduced access to high-quality seeds, and loss of associated traditional knowledge".
Some of these forgotten foods include pseudo cereals (grain amaranth, buckwheat, and chenopods), small millets (finger millet, foxtail millet, proso millet, kodo millet, and barnyard millet), underutilized grain legumes (rice bean, moth bean, adzuki bean, faba bean, horse gram, and winged bean), tuber crops (taro, cassava, sweet potato, yams, potatoes), minor fruits (jackfruit, custard apple, jewish plum, ber, and tamarind), seabuckthorn, red gram or pigeon pea, and sorghum.
The underutilization of native food crops also resulted in the changing of people's food habits, threatening the local ecosystems and biodiversity and leading to malnourishment, Asia Pacific Farmers Forum explains.
Many forgotten indigenous foods "have the power to combat hunger and malnutrition, respond to climate change, promote biodiversity, improve rural livelihoods and support healthier and more secure food systems. Adding new species to our diets can result in better supply of particular nutrients, i.e. essential amino acids, fiber, proteins. Neglected and underutilized crops also provide economic and environmental benefits. Farmers can grow them on their own, as part of crop rotation systems, or inter-plant them with other crops, protecting and enhancing agro-biodiversity at the field level. Having a bigger number of species to choose from in a crop rotation system allows farmers to have a more sustainable production system. By changing species in a crop rotation system, the cycle of some pests and diseases is disrupted and probabilities of infestations are reduced".
Due to all these factors, the Asia Pacific Farmers Forum wants to promote the revival of traditional agriculture and reintroduce these forgotten species of indigenous crops.
In celebration of International Women's Day (March 8), the consortium Asian Farmers' Association for Sustainable Rural Development (AFA) and La Via Campesina (LVC) invites female members of the farmers' organizations under the Asia-Pacific Farmers Program (APFP), Farmers Organizations for Asia (FO4A), and Assuring Resiliency of Family Farmers Amidst COVID-19 (ARISE-Farmers) to join the "Women Ensuring Food Security and Nutrition: Forgotten Foods Cooking Contest". In this cooking contest, the challenge is to prepare native dishes that will highlight the use of forgotten indigenous, native or heirloom food crops as one of the main ingredients.
This event aims to: raise awareness on many forgotten native or indigenous food crops and promote the production and consumption of these crops; recognize the role of farming communities, in particular women farmers, as keepers and conservators of indigenous crops; recognize the role of women in promoting nutrition in their households by integrating native foods into local cuisines; highlight the nutritional value of forgotten indigenous foods; showcase the rich biodiversity of Asia and the Pacific and put into the spotlight the exquisite native cuisines and food cultures of Asia and the Pacific. It is open to all women farmers, fishers, indigenous peoples, forest users, herders and
Candidates can apply for the competition until 31 December 2022. All the information on how to enter can be found here.
Source & Picture: Asia Pacific Farmers Forum press release